Cleaner Rugs, Easier Life: Your Washing Machine Guide
Area rugs have the incredible ability to transform the vibe of a space by providing a touch of warmth, color, and personality. However, with time, these rugs can accumulate dirt, dust, and stubborn stains, decreasing their once-vibrant presence. Join us as we show the nuanced process of machine-washing rugs. We hope to demystify the rug cleaning process by providing you with a step-by-step guide on how to wash a rug in the washing machine and revitalizing these cherished decor elements.
Pre-Wash Rug Care Essential
The secret to a successful rug revival is preparation. Before beginning the cleaning procedure, gather the required equipment and ingredients: a trusty vacuum cleaner, mild detergent, and powerful stain removers. Examine your rug carefully, examining its substance and construction, since this knowledge will act as your guide during the cleaning procedure. Refer to the care label or the manufacturer's instructions for further information. Take your rug outdoors and firmly shake it to eliminate any loose particles before you begin cleaning. If stains or spills occur, apply the right stain removers or pre-treatment procedures to set the framework for a thorough and successful rug cleaning.
Machine Preparations for Rug Washing
Choosing the appropriate washing machine is a critical decision that may influence how well your rug regenerates. When possible, use a front-loading machine because of its gentle approach to delicate materials and spacious drum, which reduces the likelihood of tangling. It is critical to protect your rug from wear and tear. To ensure safety, fill your washing machine with cold water. To sensitively treat more fragile fibers and safeguard the rug's long-term integrity, choose the moderate or delicate cycle. It's also important to use the right detergent. Choose a gentle detergent that is kind on fabrics and free of harsh chemicals that might destroy the fibers of your rug. 
Washing Cotton and Rag Rugs:
Cotton and rag rugs are perfect for machine cleaning due to their strength and longevity. Pay great attention to each stage of this procedure to acquire the best outcomes. To avoid tangling, start by properly inserting the rug in the washing machine. Use a delicate cycle and a small amount of mild detergent. When the cycle is over, the rug has been cleaned and drained, so remove it carefully to avoid damage.
Rug restoration takes more than simply cleaning; appropriate drying is also required. It acts as a major barrier against moisture-related enemies such as mold and mildew, ensuring that the condition of your rug is maintained throughout time. Cotton and rag rugs' adaptability extends to their drying procedures. When dried outside, they may experience the healing embrace of the sun and fresh air. You may use a low-power tumble-dryer to dry your rug inside. Before returning your rug into the interior setting, make certain that it is completely dry, as any leftover moisture-related worries will cast a shadow over your rug's regained new look.
Post-Cleaning Maintenance:
The act of caring for your rug continues even after the washing and drying processes are completed. Your rug longs to recapture its original texture and softness, which can be achieved with moderate shaking or brushing. Lint and debris left behind from the cleaning procedure can be removed with the help of a vacuum cleaner. When your rug is resting and not in use, it must be stored in a way that protects it from dust and other damage. Your clean, dry storage room or a specially constructed rug storage bag transforms into a fortress, protecting your rug from the elements. Regular inspections are highly suggested to ensure that your rug remains in good condition.
These ideas and recommendations will serve as guiding lights as you traverse the delicate process of machine washing, illuminating your way and assisting you in overcoming any barriers. A slight stretch when wet is a possible therapy for recovering shrunk carpet dimensions. Fabric conditioner keeps your rug's silky texture while preventing further shrinking. To remove persistent stains, use spot-cleaning procedures and the same mild detergent used throughout the washing process. Infusing white vinegar into your laundry has shown to be a dependable method.
Conclusion: 
Lastly, knowing how to machine-wash rugs is a valuable skill that can be used not only to keep a clean and visually beautiful home, but also to extend the life of these valuable décor components. By following the entire procedures and professional guidance, you can bring freshness and vigor into your rugs.  Well-maintained rugs may save you money by reducing the need for replacements on a frequent basis. You'll notice not just increased attractiveness but also a sustainable and cost-effective home design strategy that exhibits your care and attention when you look at your resurrected rugs.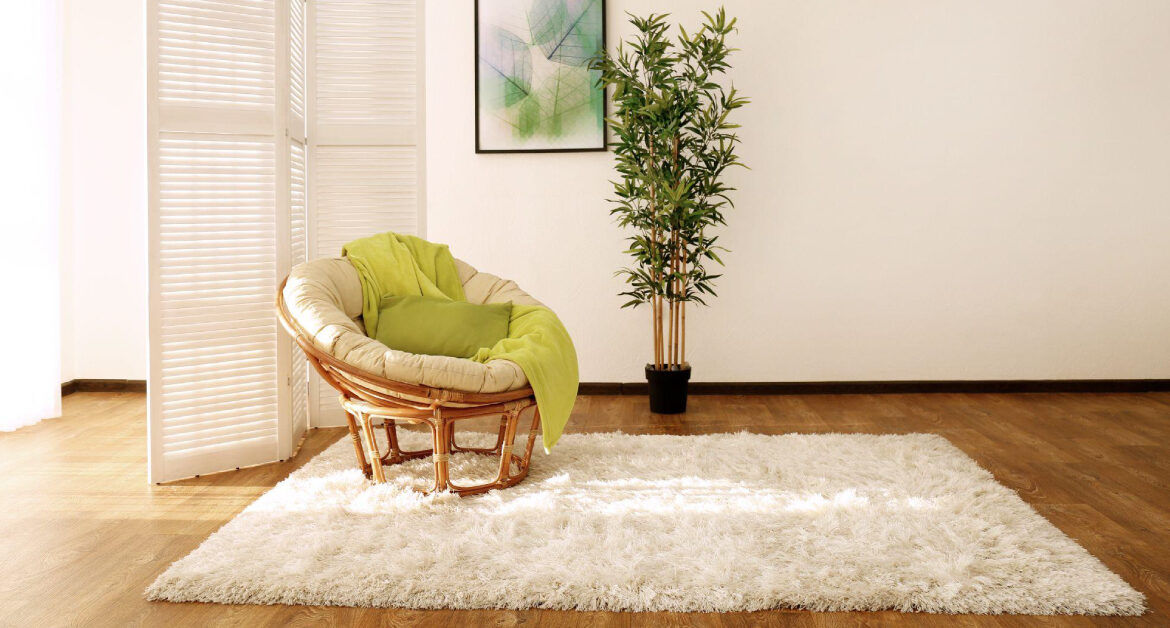 I. Introduction Picking the right rug size in accordance to home style might immensely affect the general look and feel of …